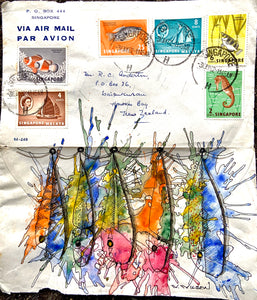 WayneWilsonArt
Fishing Lures - 12" X 12"
Regular price
$235.00
$0.00
There is something compelling about the old wooden fishing lures that fill your grandfather's fishing tackle box....bright colours dulled with age and smooth wooden plugs full of holes from sharp sockeye salmon teeth. When I was a kid in Terrace, BC I spent much of my time fishing for trout but always had a kid's delusions of grandeur of using those big fishing plugs to catch the big one!!!
These watercolour pieces are painted on envelopes from the early to mid 1960s.
---
More from this collection